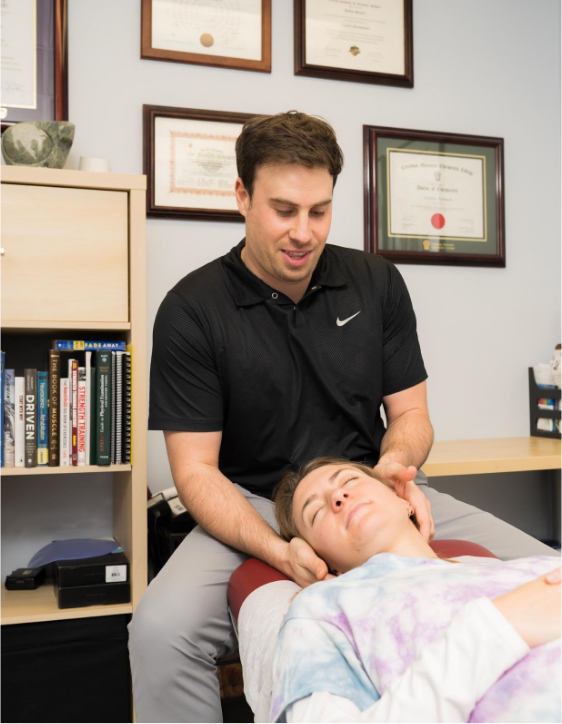 Dr. Jordan Bennett
Honours Bachelor of Kinesiology | Doctor of Chiropractic | Medical Acupuncture |
Post Doctoral Diplomate in Clinical Neuroscience
---
Since graduating and joining the team at Moore Chiropractic Dr Bennett has served the Markham community treating a host of musculoskeletal injuries. As an expert in spine, muscle, and nervous system ailments Dr Bennett will assess, diagnose, treat, and develop a personalized care plan that enhances your strength, mobility, and quality of life.  As a practitioner Dr Bennett's goal is to be evidence based, knowledgeable, and an attentive health care provider. 
Through the ongoing work with his patients Dr Bennett developed an interest in treating patients with neurological dysfunction. He found there was lack of resources for those suffering with minor traumatic brain injuries. The rehabilitation needs of his patients required a more in-depth clinical approach. Therefore, Dr Bennett completed a post-doctoral diplomate in Clinical Neuroscience from the Carrick Institute and became board certified through the American Chiropractic Neurology Board. 
Dr Bennett addresses the needs of those suffering with concussions, headaches, vestibular dysfunction (dizziness and balance), nerve injuries and post stroke rehabilitation. For more information focused on issues with the neurological system please use the link below: 
drjordanbennett.com
Dr Bennett is able to combine his training as a chiropractor and clinical neuroscience practitioner to offer his patients a dual perspective when addressing their injuries. This added knowledge has enhanced his ability to examine and diagnose all types of injuries and develop treatment plans that offer more options and alternatives for care. 
Educational Background
University of Western Ontario – Honours Bachelors of Kinesiology – 2010
Canadian Memorial Chiropractic College – Doctor of Chiropractic – 2015
McMaster University – Certificate of Contemporary Medical Acupuncture – 2015
Carrick Institute for Clinical Neuroscience and Rehabilitation 2018
Professional Affiliations
Ontario Chiropractic Association
Canadian Chiropractic Association
College of Chiropractors of Ontario

American Chiropractic Neurology Board
"I am committed to providing dynamic and cutting edge treatments with care and compassion."