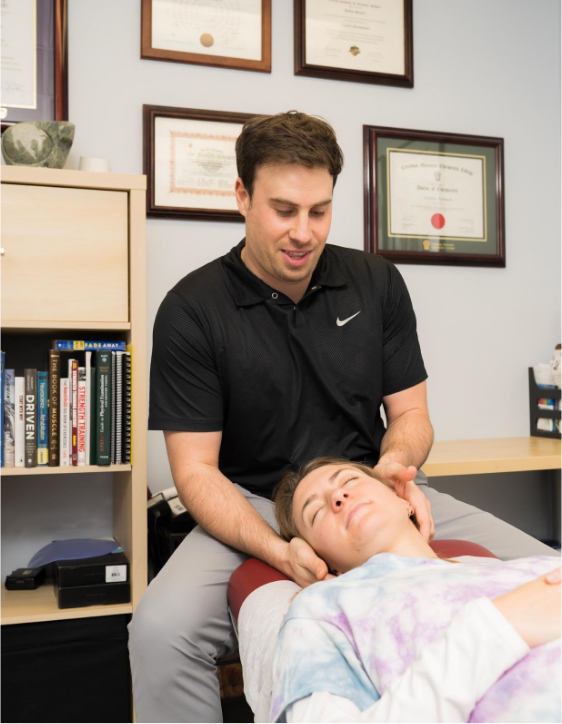 Dr. Jordan Bennett
Honours Bachelor of Kinesiology | Doctor of Chiropractic | Medical Acupuncture
---
 Dr. Bennett's passion for athletics began while growing up in a small community where sports were central to his way of life. Throughout his high school and undergraduate years he participated in competitive basketball, volleyball and football. Through this involvement he became interested in strength and conditioning with the primary goal of improving his athletic capacity.
 Pursuing a healthy lifestyle and improving performance became an integral part of his life. While at University he worked with the Women's Varsity Basketball Team's training staff, where he assisted the team members with their strength and endurance programs and injury rehabilitation. This firsthand experience in dealing with athletic injuries highlighted the importance of proper training protocols and provided the motivation to pursue a career in rehabilitation medicine and fitness. As a practitioner Dr. Bennett's goal is to be evidence informed, knowledgeable, caring, and an attentive health care provider. He utilizes a holistic approach providing personalized treatment plans and is confident in treating all forms of musculoskeletal conditions.
 Dr. Bennett's goal is to educate his patients so they can play an active role in their recovery. He believes that success lies in the partnership that exists between the chiropractor and the patient. He is committed to providing competent, cutting edge and compassionate care.
 Educational Background
University of Western Ontario – Honours Bachelors of Kinesiology – 2010
Canadian Memorial Chiropractic College – Doctor of Chiropractic – 2015
McMaster University – Certificate of Contemporary Medical Acupuncture – 2015
Professional Affiliations
Ontario Chiropractic Association
Canadian Chiropractic Association
College of Chiropractors of Ontario
"I am committed to providing dynamic and cutting edge treatments with care and compassion."